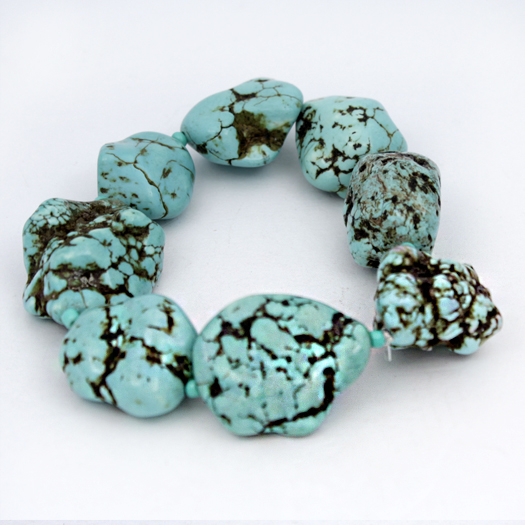 Turquoise is popular in western jewelry because it comes in beautiful shades of blue and green and each piece is unique. With proper care, you can keep your turquoise jewelry looking shiny and beautiful for many years, even if you wear it every day.
Turquoise jewelry is not difficult to clean, but it is sensitive to many common cleaning products, such as soaps. Turquoise jewelry generally has silver, gold, or gold-plated silver for the setting. Gold requires minimal care, but silver settings can tarnish.
Turquoise generally should be cleaned once a week. This will keep it in top condition, even if it is worn daily.
Dampen a clean, soft-bristled toothbrush with clean water. Do not use any cleaning products because they can damage the turquoise. Use the toothbrush to gently scrub the surface of the turquoise. Rinse the toothbrush under running water and then gently scrub the silver or gold setting. Do not soak your jewelry in water because turquoise is porous and will absorb water.
Dry the jewelry with a soft towel. Then let it air dry to make sure it is completely dry. Do not allow any moisture to remain on the jewelry because it can dull the turquoise or cause the silver setting to tarnish.
Polish the jewelry, especially the metal parts, with a jewelry polishing cloth or a clean, tightly-woven microfiber polishing cloth. Do not use any harsh anti-tarnish chemicals on the metal because they could come into contact with the turquoise and damage it.
Keep your turquoise jewelry in a fabric-lined jewelry box when you are not wearing it. Remove it before bathing, swimming, or using household chemicals to prevent damage. Avoid knocking your turquoise jewelry against hard surfaces because that can crack the stone or damage the metal prongs.