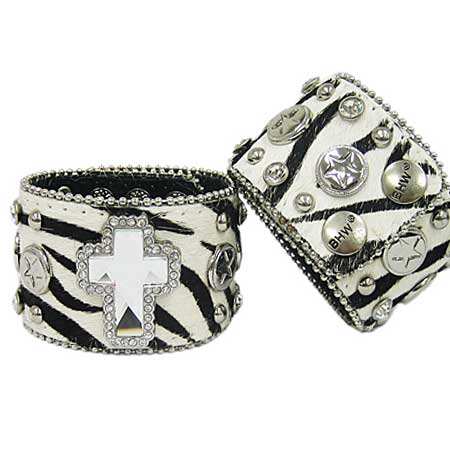 If you're looking for Western themed rhinestone jewelry, you'll find it at WholesalehandbagsUSA.com. Our jewelry section has an outstanding assortment of rhinestone bracelets that accent evening gowns and everyday casual wear, too. They're ideal for the Western cowgirl or anyone who desires the Western look in the latest contemporary attire.
Our rhinestone bracelets are sure to be a hit wherever high fashion is in vogue. Available in a wide variety of lengths and featuring adjustable clasp closures, our rhinestone bracelets are easy to slip on and take off and won't snag on clothing and sleeves.
Choose from a wide variety of glass crystal rhinestones in fabulous colors such as gold, turquoise, ruby, jade and black for simple or exotic Western jewelry accents. In addition to rhinestone bracelets we carry a unique line of Western wristbands made from genuine hide that come in a great selection of colors, including purple, zebra stripe, leopard spots and camouflage.
Choose from a zebra Western bracelet wristband decorated with large crystal rhinestones with a large crystal glass ornament that comes in an adjustable size on the front. Or pick our Western rhinestone blingi bling bracelets decorated with large crystal glass ornament and a two button snap closure. You'll also love our Western rhinestone hand wraps/hide bracelets with a genuine hair on hide leather strap that is also decorated with a large crystal glass ornament.
Our wholesale western theme jewelry accessorizes with traditional and contemporary outfits in casual and upscale scenes, with a bright and shimmering allure of glass rhinestones, jade, turquoise and polished metal that looks great on bracelets, earrings, necklaces and pendants.
Our western jewelry collection features stunning precious stones in beautiful colors including turquoise, gold, jade and ruby that are perfectly matched with necklaces, earrings, pendants, bracelets and chokers, with a variety of rhinestone jewelry that expresses the perfect Western look for cowgirls and other Western wear aficionados.
We also offer pendants in a wide variety of designs and styles, including classic bull horn emblems in black or traditional crosses that turn any outfit into a Western themed get up that exude style and classic taste.
If you own a retail fashion store or boutique and want to provide unique Western jewelry, you'll find a wide variety at wholesale prices at WholesalehandbagsUSA.com.